【en world Japan K.K.】Part1 – Creating a Corporate Culture to enable success of all our diverse people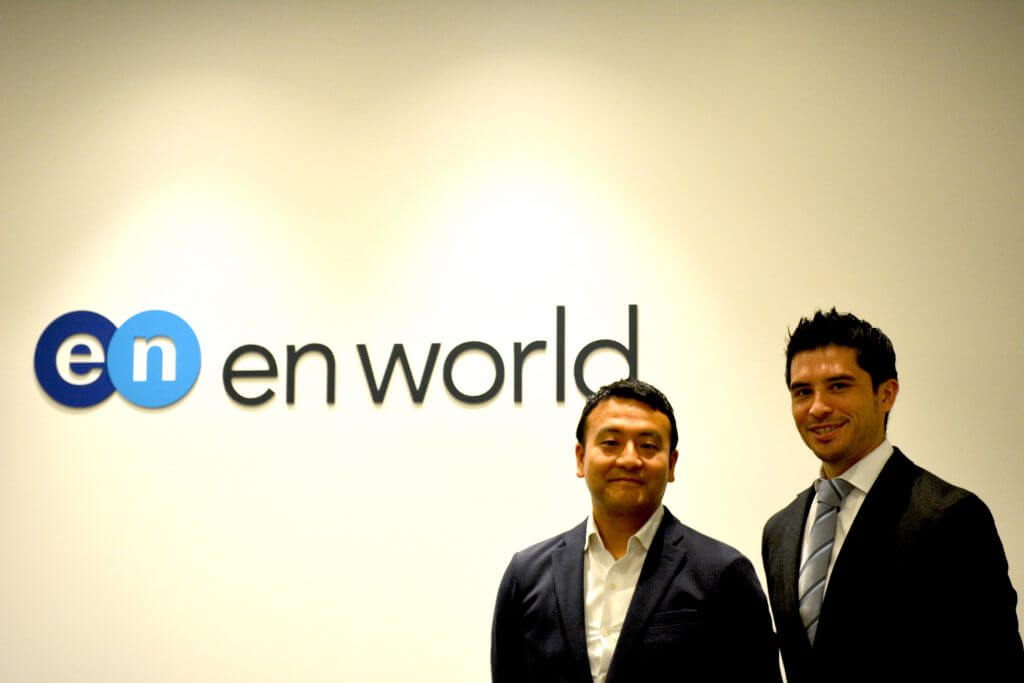 en world Japan K.K. ("EWJ") was originally established as Wall Street Associates K.K. ("WSA") by a British founder specializing in financial services and executive recruitment. In 2010, it became part of en-Japan Inc. and rebranded as en world Japan. Currently, half of the management are non-Japanese. In the beginning, most of the employees were non-Japanese. However, as the number of Japanese gradually increased, it has become a Japanese multinational corporation. In this first interview, we are joined by Mr. Yu Sato who determines HR strategy at EWJ.
Interviewee:
Mr. Yu Sato|Director, Vice President, CxO Platform Business Director, EWJ.
Daniel Munoz|Senior Consultant, Supply Chain & Procurement Division, EWJ
What kind of services does en world Japan offer?
We support recruitment activity and career transitions for executive layer positions such as executives and managers of global companies. The majority of our clients are foreign-capital companies. We also have been working to increase support for middle management positions such as department heads and managers.
Could you tell us about your corporate culture?
Although I joined as a member of WSA I think our culture has not particularly changed even after we became part of en-japan. We have combined the cultures of both WSA and EWJ with an idea of maintaining and leveraging the strengths of each company. In particular, when we service our customers, we all would like to maintain the mindset and our mission of "enabling success," especially after our candidates join new companies.
Please tell us about your working environment.
We currently have employees that represent more than twenty nationalities. Our internal official language is English, but we have mixture of people, both non-Japanese who are not fluent in Japanese and some Japanese who are strong with English. Therefore, we produce our documents in both Japanese and English. We have corporate training programs which include language learning. We provide subsidies from 10,000yen to 20,000yen per person per month for those who wish to learn Japanese or English. Some employees use this program and arrange lessons at our company after business hours.
My ideal or goal is to create an organization where the employee ratio of Japanese and non-Japanese is 50:50. As we have both Japanese and non-Japanese customers, we would like to create an organization which is able to respond to requests from both Japanese and foreign capital companies and where our diverse people will be successful with their roles.
What would be important for managing diverse human resources?
Based on the assumption that each person is different, we place importance on accepting our differences and communicate with each other face-to-face. As we have employees from more than twenty countries, we do not have a common set of expectations from the beginning. Even if something is natural and nothing special for me, many times these things may not be common sense for others.  Thus, we need to verbally explain our expectations, etc. in order to understand each other. In addition, even if they understand the words, the interpretation of the meaning behind the words may be different from culture to culture.
That is why we focus on the amount of communication we have with our employees and are aware of importance of talking with each employee with full attention and taking the time necessary. I also have one-on-one meetings with our managers every week. During these meetings, I fully explain what we need to do as a company. If I suddenly gave an instruction to "just do it" to someone without any explanation, they would have hard time understanding the rationale behind it and may wonder "why?"
I think it is important to create an atmosphere (corporate culture) where anyone can express their opinions openly. I think the accumulation of such communication over time is important for creating a good working environment.

Please tell us about your recruitment policy.
We apply the same recruitment criteria for both Japanese and non-Japanese people – we do not change just because you are a non-Japanese. Our key assessment points are whether a candidate is an independent and responsible individual who sympathizes with our core values. We will keep recruiting new graduates and mid-career professionals going forward regardless of nationality. We would like to hire those "who are independent and responsible," "who have considerable experience overseas," and "who are highly adaptable to a multinational work environment."
Could you tell us about your evaluation and compensation systems?
We value transparency when we evaluate and compensate our people. During meetings with our candidates, we often hear a job seeker does not like an organization where his/her performance evaluation changes based on the preference of his/her supervisor. Additionally, we believe that many people in their 20's are not happy with their current work situations of not having opportunities to play an active role in an organization, get promoted, or earn a higher salary. At EWJ, we quantify evaluations as much as possible and make qualitative evaluations transparent when we decide the compensation of our employees.
What are the benefits of working at en world Japan?
First, you will be able to work in our multinational work environment with diverse colleagues using English on the job. Second, we have a corporate culture which provides opportunities regardless of your age or nationality, which is an attractive aspect of our organization. In addition, non-Japanese people can be successful by being able to leverage their background and communicate effectively with our many non-Japanese customers. For example, when we communicate with non-Japanese executives of a foreign capital company, on top of English language skill, we need to know the culture and the mindset of such people to effectively communicate with them in business.
Finally, please share some advantages of working at en world Japan to foreign students.
If you want to work in Japan, you would need to understand the differences in business customs. I think the best way to learn these is to spend time with Japanese professionals, rather than only spending time with non-Japanese people. Additionally, it would be beneficial for you to connect with those non-Japanese who are already working in Japan. I think it is important to take initiative and actively gather information from others.
The key to being successful in Japan is to study and master Japanese. We have some people in our organization who are not good at Japanese. However, if you can speak Japanese, you will be able to expand your areas of expertise and have more opportunities at the company. To maximize your expertise and ability, it would be best to master Japanese.

Thank you!
In the next interview, Mr. Munoz shares about his working experience in the multicultural work environment.
Next: 【en world Japan K.K.】Part2
(Interviewer: Kazuya Tamura, Eri Watanabe and Takuya Osawa)
Oshigoto.comでは、メールマガジンの配信を行なっています。
定期的に、就職イベントや求人情報などの最新情報をお届けします。
是非、ご登録ください!