[Interview] Getting a Job Offer in Japan without Business-Level Japanese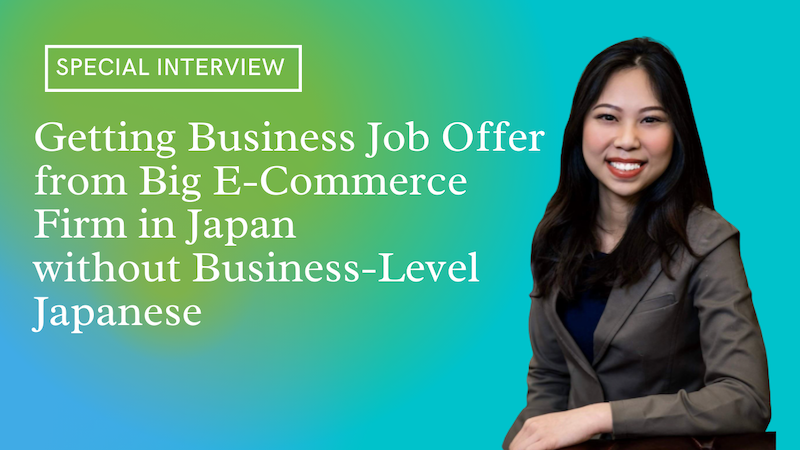 Getting Business Job Offer from Big E-Commerce Firm in Japan without Business-Level Japanese
According to the survey results of the Japanese Language Proficiency Test (JLPT), 83% of Japanese corporations require the "N1" and 9% of companies require the "N2". It means that the proportion of companies in Japan that hire international students speaking English with conversational level Japanese (JLPT N3 below) is very low. Japan Association for Promotion of Internationalization (JAPI) is implementing a research project on these few remaining companies to support international students with their job hunting in Japan. 
Normally, for STEM (Science, Technology, Engineering, and Maths) graduates, the Japanese level requirement is JLPT N3 minimum, N2 and above. However, non STEM graduates will need at least JLPT N2, then N1 and above preferred. 
In this article, we will interview a foreign student who has excellently got an offer from a large E-Commerce company in Japan. The special thing is that she received this business job offer when her Japanese level was not business level. 
Hi Trinh, could you tell us a little about yourself?

"My name is Trinh. I came to Japan in 2017 to study Global Innovation at Toyo University. 
Now I am working as a business developer in the R. Blockchain Lab."
Could you share more about your current job?
"I had an opportunity to do an internship in a global EC corporation. This is a giant Internet service company, with 20,000+ employees around the world, including 80+ nationalities, offering more than 70 businesses ranging from finance, e-commerce, mobile network, travel, etc with a total of more than 1.5 billion users.
I successfully moved to a full-time position in 2021 after more than a year doing a paid internship at the same position."
How was your Japanese when you did the job-hunting?
"First, let me give you some tough reality: if you are a new graduate, looking for a business-related job in Japan, being able to speak Japanese is important. As soon as you can, please improve your Japanese level as soon as possible. I didn't have anyone to tell me that reality, so during my first 3 years in university, I thought that I would find a job in a global company such as Google or start my own business. But as a new graduate, you are required to be bilingual, unfortunately. 
When I started working as an intern in December 2019, my Japanese was poor and I couldn't speak business-level Japanese. 
During 2020, when the pandemic happened, the budget of the entire company was tight so I was unsure about my job offer as well. Therefore, I did job hunting as a plan B. I was not successful with my job hunting experience, to be honest, and I know that largely because of my Japanese ability."
How could you successfully get the job with that level of Japanese?
"It is a mixture of luck and hard work. I met my current manager at my company's Technology Conference in 2019. We exchanged contacts and I approached him on LinkedIn, expressing my interest in doing an internship at his blockchain lab because I wanted to write my graduation thesis about blockchain.
What I mean by "luck" is that usually, my company has an official internship program and that one is competitive. If I applied, I might get rejected right away. By approaching my manager directly, I was hired to work part-time with hourly payment but technically I am an intern. So I was lucky to skip the entire process of selecting a student intern, and even got a payment as well."
Now, how are you using Japanese and English in your current job and in the company?
"Now after more than 1.5 years of working in my current position, my business level Japanese has improved dramatically, I can understand meetings conducted fully in Japanese. But my speaking ability is still limited and that is my ultimate goal for this year.
 My company is a Japanese corporation but has English as the official language. All of the documents in the company have to be in both English and Japanese. The majority of my members in my department are from the UK, so within the team, the main language is English. However, sometimes I also have to deal with Japanese clients who don't speak English. This is still a challenge for me but luckily, I receive a lot of support from my manager. I am still practicing my Japanese communication skills every day by listening to podcasts and Japanese conversations in the office."

(Image: Provided by the interviewee)
What kind of platforms did you use to do job-hunting?
"

CareerForum.net

: definitely the number one website all new graduates in Japan have to know. This is the largest job fair for Japanese-English bilinguals. Usually, it will be held in Boston but because of Covid, everything shifted to online. Unfortunately, you will still have to speak some level of Japanese because jobs on this website are quite competitive. But there are still some positions that only require you to apply in English.
LinkedIn: lots of English jobs were posted but generally LinkedIn job posts were quite messy, some job posts were already overdue but no one took it off. I think LinkedIn is better for a mid-career position. However, I connected with some headhunters on LinkedIn and decided to keep in touch for the future.
Facebook: I actually applied for quite a few positions thanks to connections on Facebook. So, keep signaling Facebook that you are looking for Job, FB algorithm will push more job hunting-related info on your feed.
Last but not least, definite search for 新卒採用 + your favorite company name and create a spreadsheet to track all the application and deadline."
Do you want to share any advice or tips for international students hunting jobs in Japan?
"Tip 1: Ask the right person at the right time. My manager would not hire me if at that time our lab was not having a serious shortage of team members. What you can do is to go on any job search website or a company, look for the hiring section and see which team is hiring. Don't need to look for entry-level or anything, just look for an opening position in your interested field. If you have an insider to tell you how many people are in the team and what is going on there, that would be great! If the team is really small, you have a better chance. Approach the manager on LinkedIn and express your interest in doing an internship. The fact that they are hiring means that they are lacking people and a random student offers to work for the team, well why not? This is my observation, and it is worth the try.
Tip 2: The result of your work is the best CV. Once you land the long-term internship or even just a short-term one, make sure to put your heart into the work. Take initiative and ownership as if you are a full-time member of the team. This is a golden time for you to ask questions and even to make mistakes. What no one will accept, however, is an intern who doesn't show a willingness to work hard. Finally, just enjoy the work, find your purpose, and be genuine."
Thank you very much for sharing with us!
Interviewer: Nguyen Thanh (JAPI* Internship student from Toyo University)
*JAPI is a non-profit association that operates Oshigoto. com.
Reference: 
Japanese proficiency required for international students (外国人留学生に求められる日本語運用力) http://j-study.org/ja/3-0/3-2/
How much Japanese do I need to find a job in Japan: https://japi-oshigoto.com/en/how-much-japanese-do-i-need-to-find-a-job-in-japan/
Oshigoto.comでは、メールマガジンの配信を行なっています。
定期的に、就職イベントや求人情報などの最新情報をお届けします。
是非、ご登録ください!