【9DW Corporation】Part2 – An environment where anyone can be active with technical skill and passion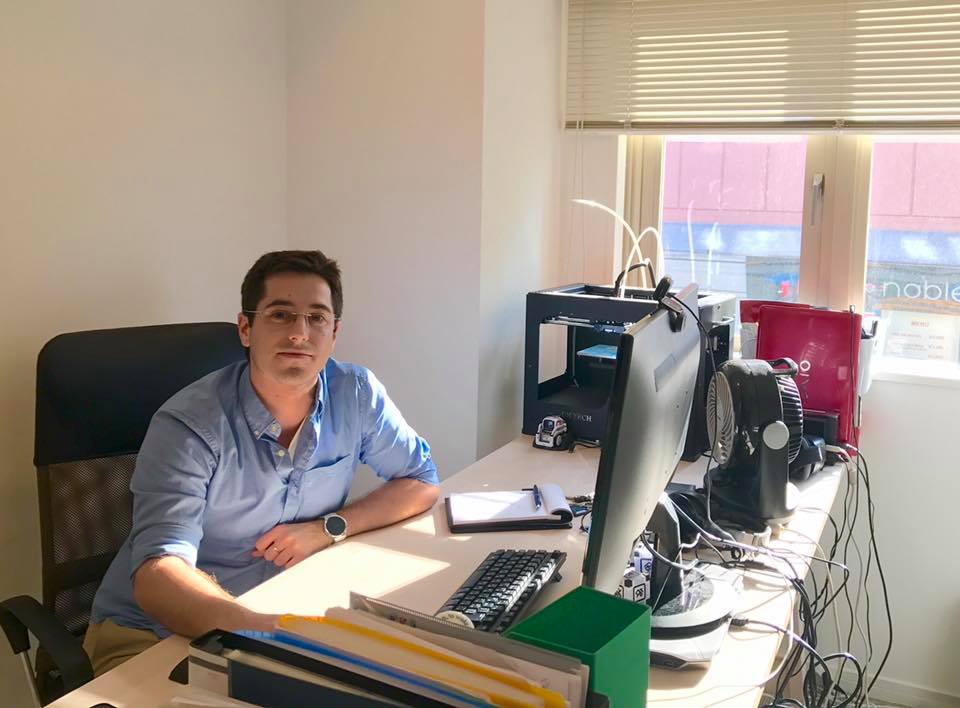 Resuming from last time, we interviewed 9 DW Corporation, an acclaimed Japanese company engaged in artificial intelligence (AI) development. The company name "9 heads Dragon Works" contains the desire to build a peaceful world through AI.
We interviewed a foreign employee who works in 9DW feeling sympathy with such an idea.
Interviewee
Tsuyoshi Imoto | President
Reiko Imoto | CBO
Cadic Jean | CAIO
Please tell us about your career and the contents of your current work
When I was in two universities in France, I majored two fields: mathematics and anthropology. I wanted to combine these two fields and do something useful for people, therefore I was interested in AI.
I came to Japan to acquire a doctorate degree. I participated in a joint research with SoftBank Corp., and worked on the development of Social Interaction. After that, I met the company I am currently working for and quit school. Since then I have been working here.
As the artificial intelligence officer chef at our company, I am mainly serving as supervisor on AI genetic algorithm, unsupervised learning and deep learning.
What's the difference between working in France and Japan?
In Japan, you get trained after you get a job (On the Job Training method), but in France you join a company according to your previous career.
Because we have a free environment in my company, I do not feel any major difference from French companies. As far as I can tell, Japanese companies are usually very careful about the hierarchical relationships but this company does not take that kind of approach.
You are currently studying Japanese, what motivates you?
The main reason is because I want to communicate with customers directly. My colleagues translate for me after meetings but I would like to be able to exchange in the very moment if possible.
How are you communicating with other employees?
With body language (laughs). Half in Japanese and half in English. Since we research about AI, employees can read English papers but are not good at speaking (laughs). However, I do not feel any stress because of it.
Do you acquired new skills or experience after joining the company?
Communication skills, management skills, presentation skills (when doing product demonstration) etc. I also think that my technical skills are gradually increasing.
Have you received sufficient support from your company or your boss?
They always care about me. In this company, employees are like family. There is a homely atmosphere where you can talk easily with anyone. The free environment and easiness of working is the biggest reason for why I keep working here.
Please tell us about your dreams and goals.
I hope that AI will become useful for society. By taking advantage of the data overflow in today's society, AI can be used for good things, but it can also be abused. It's not a matter of technology, it's a problem of that company or that government developing AI.
Nowadays many companies use AI for marketing purposes. But unlike the other companies, we develop AI for solving social problems. I hope that in the future more companies would put it to such use.
We would appreciate it if you could leave a message to international students who wish to work in Japan.
I feel that the working market in Japan is large. Working in a Japanese company may be easy at times but you have to be able to speak Japanese and to adapt to long working hours and stressful environments. Also, the time you can spend with your family and loved ones is limited.
However, lately there are more companies that are adopting the free working environment like our company. In order to work in a such company Passion, autonomy and creativity are always required. Also, you need to be clear in what you want to do. Anyway, I love my current job!
Thank you for your great story!
(Interviewer: Eri Watanabe, Translator: Ilaria Ester Macclocca)
Oshigoto.comでは、メールマガジンの配信を行なっています。
定期的に、就職イベントや求人情報などの最新情報をお届けします。
是非、ご登録ください!