【Pasona Inc.】Part1 – Solving social problems by bringing out the best in people.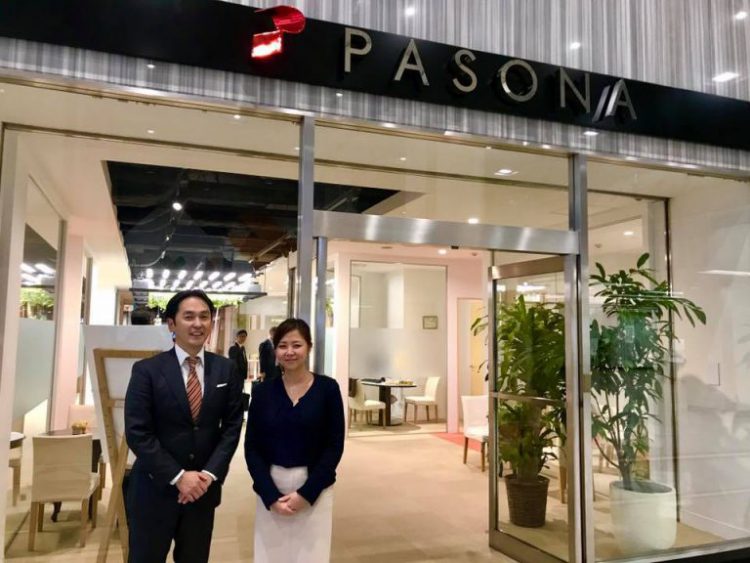 Pasona Group Inc. website
Pasona Inc. (temporary staffing) website
Pasona Inc. Global Business Management Division website
http://www.pasona-global.com/gl/index.html
In 1976, Pasona Inc. was established to support housewives, who had once left their work to take care of their children, start working again. Today, the company operates in 15 countries/areas and more than 8,000 companies rely on Pasona for various recruitment services, utilizing Pasona's worldwide network. This time we interviewed Mr. Ichikawa, General Manager of the Global Business Management Division .
Interviewees
Tomoyuki Ichikawa | Managing Executive Officer, General Manager, Global Business Management Division, Pasona Inc.
Yeonkyung Lee | Deputy General Manager, Global Search Business Department, Pasona Inc.
An environment where everyone can make use of their talent
Could you tell us about the current situation of recruiting foreign talents?
We hire from 5 to 10 talents a year in our entire group. In our department, there are around 40 foreign talents out of 130. We offer global recruitment to foreign talents who live abroad for overseas projects we have aside from new graduates in Japan. Since we train them to be able to work in our overseas branch offices in the future, these talents are mainly from the 12-13 countries we operate in. Currently, we strategically aim at ASEAN countries, but there are talents from China, Honk Kong, India and the United States as well. Most talents graduated from universities in Japan, but some of them were recruited at the events we held in their countries. Also, we have a few talents who came to Japan for the long-term training.
What would you expect from foreign talents?
Japan is a foreign land for them and I think it's challenging to work abroad. We surely expect them to make use of their own strengths. For instance, when Chinese talents join us, we ask them to contact Chinese job seekers and so that we can expand our business more globally.
In what kind of situation do you recognize the value of foreign talents?
When only Japanese employees are in a group, sometimes it is difficult to come up with good ideas or be flexible in our thinking. In that kind of situation, young employees and foreign employees often give us different ideas or marketing methods of their country. I think it stimulates our department and motivates other Japanese members.
Since two years ago, we've hired foreign talents who can only speak English to encourage Japanese employees to improve their English skills. I often see them communicating in English as good opportunities. However, mostly, foreign employees improve their Japanese skills faster than our Japanese employees at their English. In addition to their capability, they are very motivated to acquire Japanese skills. I hope Japanese members realize how important language skills are by looking at our foreign employees.
First impressions are key: "a likable, friendly person"
Do you have any criteria for talents who can only speak English? How about the hiring procedure?
As Pasona is a company which deals with human resources, first impression has to be "a nice person"; someone likeable and friendly. Of course, we ask what they want to do, but it's surely better to be good at communication or to be flexible enough to deal with anything.
Recruitment for foreign new graduates takes the same procedure with Japanese applicants, but we, Global Business Management Division, take a different way as we assign talents to work in our overseas branch offices. Although those processes differ, basically, we hire talents who sympathize with our philosophy and services.
Do you offer any kind of support to foreign employees?
While we don't really have any special support specifically designed for foreign employees, we offer them training classes for business manners several times a month. However, apart from those classes, they improve their business and language skills by themselves through everyday work. For example, there was an Indian employee who could only say "hello" when he started working, but was able to send emails in Japanese a year later. As there are many talents whose mother tongue is not English, they have a mindset to acquire language skills so that they can directly communicate with the local people. In fact, I've gradually felt that it's rather Japanese employees who need to be changed.
Talking about another support, we often hold some events such as bowling games, sports day, BBQ or parties for employees to get to know each other. Usually, those ideas are suggested by themselves.
Additionally, we offer foreign employees enough vacation so that they can go back to their home countries to see their family. There are many countries where employees can get several weeks of vacation in general. We want them to cherish their time to be with their family especially when they are young. For example, we try to add more vacation when we meet the quota earlier.

Equal Chance, fair evaluation
Could you tell us about the promotion procedure for foreign employees?
Because our motto is "equal chance, fair evaluation," there is no difference between Japanese and foreigners. Chance is given equally to everyone. There are some foreign employees who became the unit chief in four years and kept getting promoted. They overcome obstacles of working in Japan and keep moving forward. I sometimes feel that the foreign employeesget promoted faster than our Japanese employees, because of their effort.
Could foreign employees work abroad?
Yes. When they go back to their home countries, we basically give them a chance to transfer their post. When it is not their home country, we let them transfer if there is a suitable position. We offer opportunities to the talents who made an achievement or were well evaluated to reward as well as help maintain their excellent performance.
Could you tell us what are attracting to work in your company?
Mr. Nambu, who is the founder and the Group CEO of our company says, "Let's give many chances to the young" and "When it doubt, take action." I think this philosophy matches with foreign talents' way to think and to work. Although many Japanese companies tend to evaluate their employees by seniority, I hardly feel this is true at Pasona. If foreign talents present any interesting ideas or plans for a new business, we are willing to give them a chance.
Mr. Nambu often talks to newly grad employees while walking on the hallway. In fact, some Japanese companies still have an unspoken rule, which says "You need to have a suitable post when you talk to higher-positioned people." We don't have that kind of culture, but instead we have a fair atmosphere like a western company.
Moreover, as you can choose from English or Japanese to work, it would be less stressful, I think. If you speak only English, there are many jobs you can deal with in English, and there is no position which requires perfect Japanese skills. In the Global Business Management Division, we have an aim to increase the ratio of foreign talents from one third to more than half, depending on the task. And when it becomes true, we promise to use only English to work. Of course, we will also recruit Japanese superior talents.
Pasona's overseas business has made achievements for more than 30 years. Since I started working at Pasona, I have been involved in overseas business expansion, establishment of new departments, and creating new services from scratch. All these experiences were very rewarding and I am thankful to the company for providing me these opportunities.
Could you give any advice to international students who are going to job hunt in Japan?
There are more job opportunities in Japan for international students than you can imagine. I am sure that your possibilities will develop if you relax and convey your strengths and originality. As I interview foreign talents almost everyday, they look very nervous because Japanese is not their mother tongue. You should be confident and remember that you have a chance to flourish at Japanese companies.
Thank you!
Next: 【Pasona Inc.】Part2
(Interviewer: Eri Watanabe and Chikamasa Wakabayashi, Translator: Yusuke Murata)
Oshigoto.comでは、メールマガジンの配信を行なっています。
定期的に、就職イベントや求人情報などの最新情報をお届けします。
是非、ご登録ください!