Senpai Interview (EN) – Martin Dundacek from ALPS ALPINE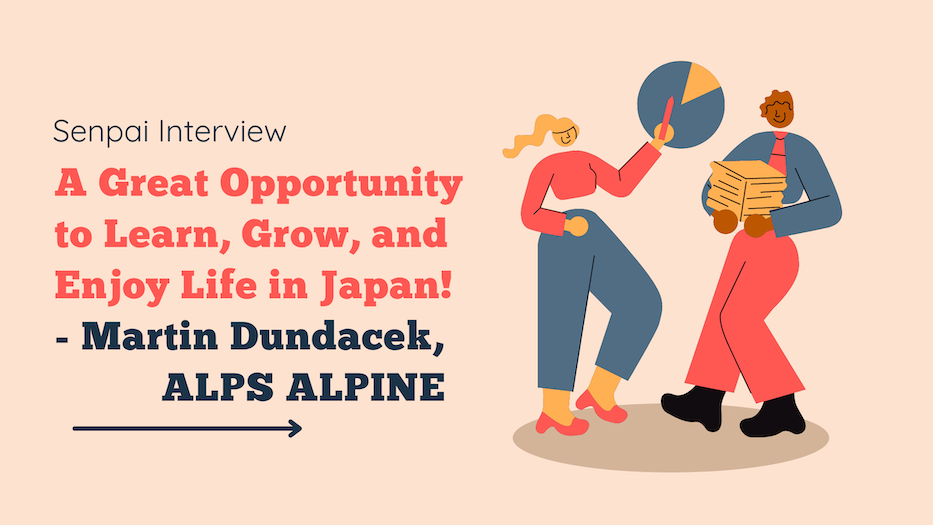 "A Great Opportunity to Learn, Grow, and Enjoy Life in Japan!"
Hi there! This is Yuuki from Oshigoto.com.
This time, I would like to share the story of  the senpai who participated in a two-year training program, IAP(International Associates program) offered by ALPS ALPINE, a major Japanese manufacturer.
ALPS ALPINE is currently recruiting participants for this program! If you are interested, please read the following article.
[Recruitment Guidance for English Speakers] ALPS ALPINE
———
Hi everyone, my name is Martin Dundacek and I have been working for ALPS Electric for 9 years now. I started in the ALPS affiliate in Czech Republic. In 2011 I joined the International Associates Program and returned in 2013 to support software development for European customers at ALPS Czech. Since then, private visits to friends as well as further cooperation with the team of ALPS Japan have brought me back to Japan several times.
My Decision Was Quickly Made
Before I joined ALPS, I knew the company only as a manufacturer of reliable floppy disc readers (yes, this part of history was not that long ago!). I applied to ALPS Czech for an internship because of their reputation for well-designed products. During my 4 weeks stay there, I discovered that ALPS products are used nearly everywhere—well hidden beneath case plastic molds of TVs, in cars or as smartphone components, so you cannot see them directly. When I was offered the opportunity to join the IAP and work at the ALPS Development Center in Japan, my decision to take this chance was quickly made.
In preparation for the IAP, my Czech colleague and I took Japanese lessons in Czech Republic as well as a one-month training in Tokyo (both provided by ALPS). There was a short time of panic, as the amount of information that we were learning seemed to be too much to remember. But many things started popping up in my mind automatically once we moved to the Furukawa Plant and started our everyday life.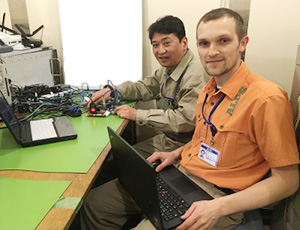 Together with my mentor!
Don't Hesitate to Ask
I joined the department for developing wireless communication modules for cars, including various technologies such as GPS, NFC, Bluetooth, WiFi and LTE. There were many new things for me to learn and a lot of opportunities to learn them. So, don't worry if you think that you do not have enough experience or are unsure how to proceed. There is always someone you can talk to, ask for advice, and who will gladly help you—such as your senpai (mentor), your ALPS colleagues and other IAP members. Therefore, don't hesitate to ask and discuss.
As the department I joined has a wide variety of products, I asked for and got the chance to gain experience also in other areas such as writing code for Bluetooth stack, implementing Wi-Fi protocols and verifying certification equipment, which is the field I now enjoy the most.
But it is not just work! I met many amazing people and found great friends, both from Japan and various corners of the world, and we spent a lot of fun and nice moments together. We are still visiting and meeting each other, despite long distance, commuting by airplanes instead of cars. Before I went to Japan, my manager at ALPS Czech told me: "Work hard, study hard, play hard", which is the ALPS motto. After experiencing IAP and extending my contract to 3 years, this is what I would tell anyone joining the IAP as well. This program offers the great opportunity to learn, grow and enjoy life in Japan itself!
Reference: https://recruit.alpsalpine.com/e/recruit/iap_members/member02.html
★Recruitment Guidance for English Speakers –  ALPS ALPINE
Check other Senpai's story from ALPS ALPINE
Oshigoto.comでは、メールマガジンの配信を行なっています。
定期的に、就職イベントや求人情報などの最新情報をお届けします。
是非、ご登録ください!