【Deloitte Tohmatsu Venture Support. Co., Ltd.】Make innovation happen in Japanese society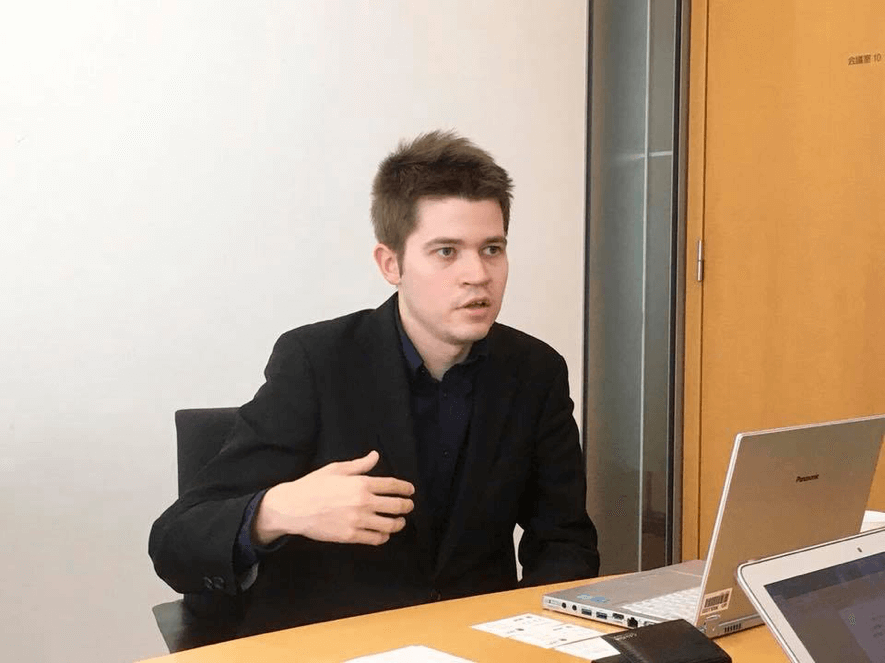 Deloitte Tohmatsu Venture Support. Co., Ltd. (hereinafter called DTVS) promotes making innovations with major companies, startups, or government organizations with its vision, "Create the future with innovators." DTVS offers services of open innovation, consulting large companies, supporting startups or government organizations.
This time we interviewed Mr. Jaakko Rajaniemi, who is one of the foreign employees in the company.
Interviewee
Jaakko Rajaniemi | Incubation Business Division, Global Innovation Team, Deloitte Tohmatsu Venture Support. Co., Ltd.
Q: Could you tell us about your career?
After I graduated from high school in Finland, I started an online auction business of pictures by making use of programming skill I had learned on my own. However, I quit it because I couldn't make enough time due to the military service.
What made me interested in Japan is my Japanese friends who lived in Finland at that time. Finland has values of individualism, unlike Japanese collectivism. I was very attracted to that kind of cultural difference and mindset of Japanese people.
I visited Japan for sightseeing for three times and then started studying at Rikyo University as an international student. After I went back to Finland once, I entered the graduate school to learn about global management. Since I participated in launching Slush Asia (SLUSH is the event for startups, originally born in Finland), I started an internship in DTVS at the same time.
Q: Did you job hunt in Japan, too?
I thought that I needed to job hunt if I failed the recruitment by DTVS, as I'd already been doing the internship there. Finally, I passed in safety. To apply for DTVS, I studied hard about it and its market and services.
Q: Could you tell us the reason you decided to work in DTVS?
I was interested in startups from my own experience and had the motivation to contribute to Japanese society. I think Japan is especially less innovative in the global market. Because of the racially homogeneous society and disadvantage of English skill, many people don't know where they need to expand overseas business. I felt they needed ideas and support for making innovation globally and I could offer them by working in DTVS.
Q: Please tell us about your current job
The services in DTVS are divided into three main parts.
One is support for startups, the second is a consultation for large companies, and the third is innovation program for government organizations.
I'm engaged in the second and the third. For example, I've recently been working for some companies in Singapore and Europe to expand their business in Japan. Now I also have a client from one of the major companies in Japan for the consultation.

Q: How do you think about working style and environment in Japan?
In DTVS, you are allowed to choose what kind of job or project you do and adjust working hours as well. I basically work from 9:30 to 17:30. Sometimes I work late for contacting foreign companies but usually do only one hour or and a half of overtime.
I didn't get a cultural shock very much. I think it's because I'd lived in Japan for a long time. However, I feel Japanese companies need more skills in English and management to deal with different culture. I hope they make more use of ideas and thoughts foreign talents have to change the situation in Japanese society.
Q: Do you have any goal or vision for the future?
I want to create the base for open innovation in the global sector. For instance, a collaboration between Japanese and foreign companies is the one.
Q: What kind of recruitment criteria do you have, as one of the interviewers of the company?
First, we need talents who are startup conscious. It means they are motivated to make a change in Japanese society and contribute to making Japanese companies more creative and global. Second, those who can promptly deal with a change. They need to have passion, too.
As for language skill, English is enough. We have the environment to work regardless of Japanese skill. For instance, my Spanish co-worker cannot speak Japanese at all but other employees translate or interpret to support him. Mostly, Japanese employees can speak English as well.
Q: Please tell us what is attractive to work in your company
One is plenty of opportunities to meet startups, accelerators, or venture capitals in Japan. For the second, we often have the overseas business trip so it is able to work abroad. But after all, the best part is our job, which can make a change for society, I think.
Thank you!
(Interviewer: Eri Watanabe, Wataru Shimizu  Translator: Yusuke Murata)
Oshigoto.comでは、メールマガジンの配信を行なっています。
定期的に、就職イベントや求人情報などの最新情報をお届けします。
是非、ご登録ください!